Across the entire family of Pro Features in ConstructionOnline, Custom Branding is one of the most appreciated. We all like to make a statement, and Custom Branding gives you the power to clearly extend your corporate brand to your online project management tools that will be accessed thousand of times by your clients and entire project team. That's the power of marketing in your hands.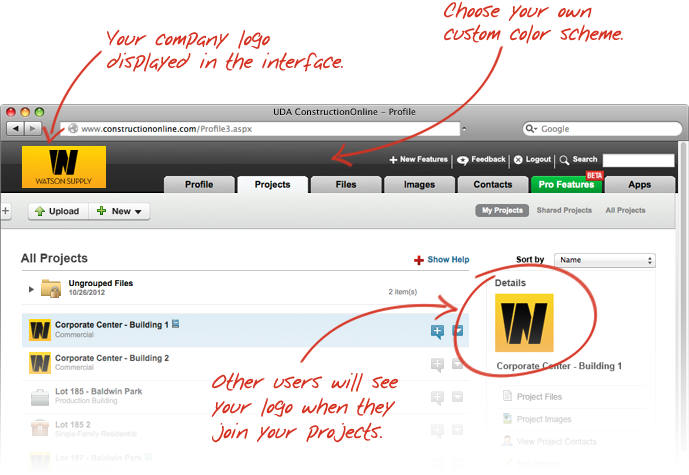 UDA ConstructionOnline™ Custom Branding
Custom Branding in ConstructionOnline™ Pro Features gives you the power to add your company logo, name, custom project icons, and corporate colors throughout all your projects. Now your clients, subs, suppliers and entire project team will see your corporate branding spread across ConstructionOnline, adding credibility and consistency to your project management and data files.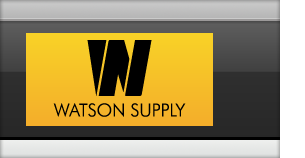 Make Your Mark
We all know that in this world of oversaturated advertising, making your mark can be a challenge. Especially when you are competing against other organizations both large and small for a strong position of recognition and mark of credibility. Because in the end, that's what gives your clients and extended project teams the confidence that your company is serious about every detail, from the management system you trust to the final quality of construction and the project itself.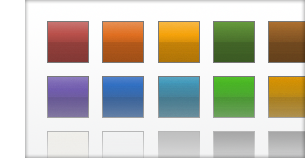 Any Color You Like
Color is a very powerful tool. It often conveys power, strength, moods and emotion, but most importantly to you (related to ConstructionOnline at least...) color can provide a bridge of consistency from your corporate letterhead and website to the online management tools your clients and extended project team will access thousands of times. Custom Branding in ConstructionOnline gives the option to pick any color you like, from vibrant reds to shining silvers. Match it up or play it up, the choice is yours.
---
Getting Started and Frequently Asked Questions
You know ConstructionOnline lets you share project files between your entire team. But, How does ConstructionOnline work? Does it require any special software? Can I limit access to certain types of information, files, or projects? Can multiple team members login to a project at one time? Learn More