Login to the Company Portal
Enter your email and password below to login and view any project shared with you
Close
Invalid email or password
Login
Forgot Your Password?
About Arrow Timber Framing
Arrow Timber Framing offers innovative and experienced timber framing, and is located in Battle Ground, washington. As a traditional Timber Framing business, not only do we do joinery and erecting of the timber frames, but also design, draft, and engineer the customer's projects. In order to be competitive our timber framers work with the best power tools, machinery, and traditional hand tools.

living. We believe your timber structure should portray the strength and durability of the solid relationships you have forged in your life. This is why we love giving you custom timber frame design and good, solid, heavy beam construction.
Recent Projects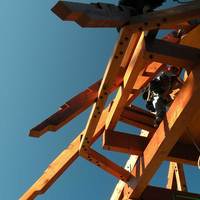 Timberline Lodge
post and beam construction
What Clients Are Saying About Arrow Timber Framing
''Working with ATF is pain-free. Everything is honest and above-board. The quality is the highest and the product is exactly right!Ron '' Ron Veach, Tuscany Homes
Arrow Timber Framing Professional Organizations