Login to the Company Portal
Enter your email and password below to login and view any project shared with you
Close
Invalid email or password
Login
Forgot Your Password?
About
At Distinctive Design / Build / Remodel, our goal is to help turn your wants and needs into beautiful living spaces. Our award-winning design and construction experts take the time to really understand your concerns and your vision. We believe careful planning and craftsmanship are keys to a successful remodeling or custom home project. Not only do we want to enhance your lifestyle, we want to build a relationship of trust that will last for years to come.
Recent Projects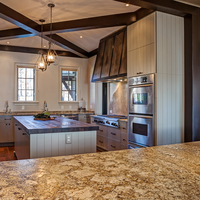 Lake Davidson Kitchen - Award Winner!
Historic Kitchen Remodel - Award Winner!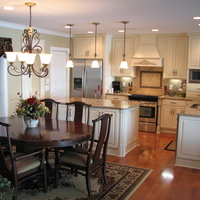 Whole House Remodel - Lake Norman
What Clients Are Saying About Distinctive Design / Build / Remodel
We live in an older house (circa 1930) and this renovation was pretty complicated (structural changes, complete rewire of the house, etc.). Even the demolition was difficult. Distinctive Design / Build / Remodel, LLC did a great job throughout the 7 month project. They never said ''no'' to anything, and were never rattled by any of the quirky things you find when renovating an older home. They just figured it out and kept going. Their subs were fantastic. Danny J - Historic Eastover in Charlotte, NC
We have been very pleased with the addition/ kitchen remodel Distinctive Design / Build / Remodel completed for us. We outgrew our previous kitchen space and I had been frustrated with many aspects of the kitchen design. Vince and Erin listened to the challenges we had in our old space and came up with a design that has worked out as we had hoped... I love my kitchen again and we really enjoy our additional sunroom and mudroom. The flow and ample storage areas work out well for our large family. All of the team, including subcontractors, were polite and safety conscious which was important with 4 children from 4 to 12 around the home. We were kept up to date regarding progress and all concerns were addressed in a timely manner. The remodel took a little bit longer than expected, and we were a little naive about the energy it took to move items within our house and live with upheaval for a time, however the results were well worth it!!! Deb B - Huntersville, NC
From the initial contact, we have thoroughly enjoyed the entire process of this remodel. Vince Busby and his crew were EXCELLENT in their follow-up and meeting with us to design our new kitchen. He worked with us to keep some of the existing cabinetry and listened to our ideas on what we desired for a unique and one-of-a-kind granite table and island area. He more than exceeded our expectations in making that happen. His work was done on time and exactly by the deadline we agreed on. The quality of work was EXCELLENT... They were a delight to have in the house and kept the construction area clean and orderly. They were prompt each morning and communicated their schedule to us each day, so we didn't have to guess when they'd be there. We would highly recommend Distinctive Design / Build / Remodel. We will definitely be using them again. Sue U - Mooresville, NC
Distinctive Design / Build / Remodel is a company you can trust to build it right. As a Licensed Structural Engineer, and co-owner of Intelligent Design Engineering in Charlotte, I have worked with Vince, the General Contractor at Distinctive Design / Build / Remodel, for years and he is at the top of my list when I recommend a contractor. The things that set Vince apart are his ability to perform a wide range of jobs and he is personally on site overseeing the work. If you're looking for an experienced builder who doesn't cut corners and who takes customer service seriously, Distinctive Design / Build / Remodel is the company you should call. Chad Ritter, LSE Intelligent Design Engineering - Charlotte, NC
Vince and his team are true professionals. They make a habit of being punctual and rehearsed. The site was always cleaned at the end of the day. We thoroughly enjoy our kitchen and are very pleased that Vince took control of our complex project. It is not everyday that you redo a kitchen, so getting it done right once was a priority. There are always unexpected issues and Vince handled them with ingenuity and honor. Chris M - Mooresville, NC
You always hear horror stories about people who have had issues with work being done on their home. From estimates for work that sometimes go over the amount first agreed to, or issues with shoddy work, or contractors that take weeks to get the job completed. None of these problems was an issue for us with Distinctive Design / Build / Remodel. We contracted with them for an addition on our home.

Erin Dougherty was very professional and offered advice and insight on our project. The contract was well written and specifically stated the work that was to be done. This kept the budget intact. Vince Busby was very much into making sure our project was done right with no issues and on a timeline set forth in the contract. He also explained every detail on the project - whether or not we asked about it. Their team of contractors was devoted on getting the job done and cleaned up after their work was done each day. Would I contract with them again to do work on my home? In a heart beat! Paula S - Charlotte, NC
We wanted to convert a 2 story family room to a single level family room with a 2nd floor playroom. Every other contractor had told us that we would need columns to support the second floor. Vince assured us that this was not needed and I was able to see his work on a friend's house where he had done the similar job. They put in a new 2nd floor for the playroom, converted 2 side windows to working windows, and added an ''L shaped'' closet with double pocket doors in the playroom, as well as recessed lighting and 2 vents for the new room. The end result was just what we were looking for. I was very pleased with Vince's work and would recommend him to others. Ginger V - Huntersville, NC
We used their services for remodeling of the master bathroom. Overall the services were very professional and courteous. Overall it was a great experience. I would us them again. We never had to call them back for any improvement. Grace B - Charlotte, NC
From the beginning I knew this remodeling project would be different than others. My wife and I have remodeled our home and our commercial building. In those instances we felt that we were chasing our contractors for details, solid goals, and completion of the project. With Distinctive Design and Build we were put at ease immediately. They focused on what we wanted out of our remodeling project to suit our family, our goals, and our lifestyle. We were given clear advice and parameters about the work before we ever began. When we needed answers or advice, they gave them in a timely manner. Often, they had solutions to our problems before we had time to worry. The design aspect was tailored to our wishes, not a cookie cutter design used over and over again in prior projects. The craftsmanship of the build was breathtaking. To sum it up, they treated our home like it was theirs! I highly recommend them for any project from beginning to end. Greg H - Kiawah Island, SC
If there were more stars available, I'd rate the team at Distinctive a 10! Our just-completed renovation included siding, windows, repairing some water damaged areas, removing and rebuilding a newly designed deck and completing some structural work to expand a closet area. I appreciated the attention to detail and the significantly high level of craftsmanship which makes my house stand out from the others. Beyond the expertise this team provided, they were friendly, easy to work with, provided ongoing communication and took the time to explain any challenges they uncovered which allowed us to make informed decisions. It was a true partnership from start to finish. I also found them extremely trustworthy and honest- traits which were essential for us when selecting a builder. In the event we undertake any additional projects in the future, Distinctive will be my first and only call! Siobhan L - Charlotte, NC
Distinctive Design / Build / Remodel Professional Organizations

Get in Touch with Us
Please fill out the forms below to submit your questions and comments.

Your information has been submitted!
* Required field
Please use a valid email.