Login to the Company Portal
Enter your email and password below to login and view any project shared with you
Close
Invalid email or password
Login
Forgot Your Password?
About Hughes Edwards Builders
Timeless Design. Unparalleled Craftsmanship.

You've worked hard and earned the right to enjoy a custom luxury home. Whether you prefer a comfortable chateau or you want room to breathe in a sprawling estate, the road to your dream house is paved by working with the right professionals.

It all starts with a builder who takes the time to truly understand your needs, can formulate an actionable plan, and has the resources to pull it all together.

You deserve the best, and that's what Hughes-Edwards consistently delivers.

As one of Middle Tennessee's premier luxury building firms, Hughes-Edwards puts your needs first—and we make it our personal mission to create an idyllic space that you'll look forward to calling "home."
Recent Projects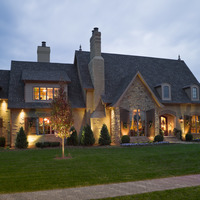 Front Elevations
What Clients Are Saying About Hughes Edwards Builders
Relationship: Client
Project Date: January 2005
Project Price: more than $100,000
We hired Hughes Edwards Builders to build our new home in Gallatin, TN in 2005. We were impressed when we toured their homes, but what sold us was when we met one of the electricians, who was wrapping up one of their projects. We asked him about the quality and he told us that everything they do is a 'masterpiece'. By the way, he had no idea who we were!

So it is true with our home. We have now been in it eight years and we love it even more than the first day we moved into it. Their team has incredible eye for details and finishes that are distinctive. I love the care and throughtfulness they poured into our home. I find I love them more as time goes on.

They stay up on the most current trends and are willing to innovate with you as a client. I would highly recommend them for new home or rennovations. We think they are world class in every way! Tami Heim
Relationship: Colleague
Project Date: January 2013
Project Price: more than $100,000
I am an architect who has worked with Hughes and Edwards on several projects over the years. They are definitely one of our favorite contractors to work with. They are honest, reliable and very respectful to the clients needs. We work well together, and our goals are similar, producing work to be proud of. Every client we have had together has been very satisfied with their work. I would highly recommend them. Jocycie610
Hughes Edwards Builders Professional Organizations

Get in Touch with Us
Please fill out the forms below to submit your questions and comments.

Your information has been submitted!
* Required field
Please use a valid email.