Login to the Company Portal
Enter your email and password below to login and view any project shared with you
Close
Invalid email or password
Login
Forgot Your Password?
About
Founded in 1927, Lezzer Lumber has since remained a leader in the building supply materials industry. Lezzer Lumber celebrating 90 years in the industry, has grown over the last nine decades into one of the 50 largest retailers in the entire country, let alone Pennsylvania, where our 11 retail stores and three commercial door facilities and truss manufacturing plant are all located.

Lezzer Lumber has always been family owned and is currently operating under the third generation of Lezzer's. Through the years one thing has never changed, our commitment to providing quality products to our customers. Lezzer employees are specifically trained to understand the importance of customer service, therefore Lezzer employees strive to meet the needs of their customers, going above and beyond the call of duty to ensure satisfaction. Our employees have a wealth of knowledge that our customers have come to rely on for order accuracy and job completion. Our employees have contributed immensely to the success and longevity of our business with their own dedication to the quality assurances Lezzer Lumber guarantees.

Whether you visit Lezzer Lumber first or last for your next project, you will see the difference in our approach. Lezzer Lumber will assist you every step of the way, helping create quotes, materials lists, managing orders, invoices and deliveries. Stop in one of our showrooms and see the difference for yourself.

It is the mission of Lezzer Lumber to be the preferred supplier of building materials for all customers by providing quality materials, a knowledgeable staff and exceptional customer service at a far and competitive price.

Recent Projects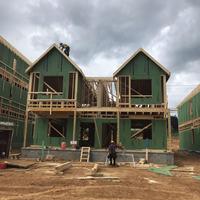 Yards at Old State
Lezzer Lumber Professional Organizations


Get in Touch with Us
Please fill out the forms below to submit your questions and comments.

Your information has been submitted!
* Required field
Please use a valid email.