Login to the Company Portal
Enter your email and password below to login and view any project shared with you
Close
Invalid email or password
Login
Forgot Your Password?
About Signature Craft Homes
Tom Waller brings many years of expertise in the custom home business by way of the quality craftsmanship and customer services. He established Signature Crafted Homes with the goal of making a person's dream home a reality. Signature Crafted Homes has showcased their work in Jefferson, Oldham and surrounding counties. Additionally, he has had his exquisite homes featured in local newspapers in the Louisville area.

Tom's strong ability to communicate with his clients is what has allowed him to have success in custom home building for the past nineteen years. Also, his eye for detail gives him the ability to visualize his client's wants and needs for their future home and bring their vision to reality. He knows every aspect that goes into building a home, so he offers a unique perspective to the home buyer. He understands it is an important decision when a client decides to build a new home and he will make sure that each client is given the utmost service during this time in their lives. Tom is also a registered building with the BIA in Louisville and also sit on the board of directors. Tom is also on the committee that approves a builder to become a registered builder in Louisville.

Recent Projects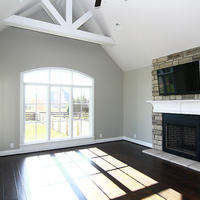 Mitchell's Project
What Clients Are Saying About Tom Waller
     Lee Ann and I had a good experience in using Tom Waller Signature Homes to recently build our dream house on 12 acres. We met Tom at his Homearama house in the summer of 2009. He spent over 2 hours with us going over the details of that house and this was before we had made any decisions to build. We liked the house plan as a starting point, but ended up making many modifications. We started meeting with builders in January and knew right away we would select Tom. He was the only one asking questions on what we wanted rather than telling us what we should build. He broke ground in early April and we were in the house in late August. All large projects like this have occasional issues, but they were resolved very quickly. If you are looking for a detached, uninterested builder who is seldom on the job site I would look somewhere else. Tom was on site virtually every day and we spoke either on the phone or in person most days. We highly recommend him for your home build or remodel. We feel not only did we make a good choice using Signature Crafted Homes to build our house, but made a good friend in the process.
Andy and Lee Ann Weingarten
We have had the pleasure of working with Tom and we have to say he is just the best.  He is an honest straight forward guy that is extremely talented when comes to building houses.    In addition to Tom's easy to work with a style, we are impressed with the houses he builds.  Tom knows how to maximize usable space while being stylish at the same time.   We are looking two houses now and they are both built by Tom! We would recommend him to anyone building from the ground up or remodeling! He knows what he is doing and he is fun to work with!
Bill and Tracy Caudill
Having gone through the experience of building a house once before, we had a pretty good idea of what the home building process was like and what to be prepared for. One thing that really stuck out from our first experience was the infamous "punch list". Those pesky little things that need to be wrapped up near the end of the construction project. When we built our first home, the "punch list" became our own personal "to do" list because we couldn't get the builder to come back and take care of those things. Our experience with Tom Waller was much different. Tom was always on top of these things and always responded quickly to anything that came up. In fact, three years after moving in, a problem developed with one of our windows. All it took was a call to Tom and the next thing we knew, a vendor was on site taking care of the problem. We were very pleased with Tom Waller throughout the construction process and even more pleased with his attention to detail and professional recommendations during construction. Tom was always quick to follow up on any questions we had before, during and after we completed our fabulous home. We would certainly recommend Tom Waller to anyone considering building a new home.
Mark & Kelly Hagan
The purchase from Tom Waller was our second experience with building a home. This home was going to be a major upgrade from our previous home, so we took our time evaluating what each of the builders had to offer. The qualities that led us to chose Tom as our builder was his attention to detail, his dependability and his willingness to work with us even after the sale. (which wasn't the case with our 1st builder). Tom is a very warm and friendly person whose professionalism shines through with each conversation. Tom was very responsive to our needs and we didn't have to continually nag him to call us back with a question or concern. Tom has excellent relationships with his contractors, as they were always willing to return back to fix any reasonable issues that arose. We have gotten numerous compliments on the design and layout of our beautiful home. We would most definitely recommend Tom to anyone considering building a new home!
Ross & Laura Phillips
Get in Touch with Us
Please fill out the forms below to submit your questions and comments.

Your information has been submitted!
* Required field
Please use a valid email.