Login to the Company Portal
Enter your email and password below to login and view any project shared with you
Close
Invalid email or password
Login
Forgot Your Password?
Company Overview
Solarwise is a quality-focused, Colorado straw bale design-build firm founded by Timbo Scursso. We create energy-efficient homes emphasizing the use of natural materials, passive solar design, and renewable energy systems. Combining the beauty of raw materials and the performance of building science we provide our clients with a well built, healthy home that is both inspiring and comfortable. To learn how Solarwise can help you with your project please check out our services and send us a message describing your concept.
Recent Projects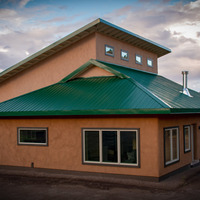 High Mountain
Hesperus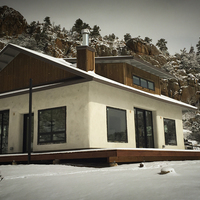 Midland
What Clients Are Saying About Solarwise - Design/Build
As a natural plasterer, I have worked with Tim Scursso and his company Solarwise on several different strawbale homes. The importance of working with a design build company when building a strawbale home can not be over emphasized. Solarwise is by far the best company that I have ever known when it comes to creating straightforward, sensible designs that are efficient to build and have amazing aesthetic characteristics. Tim is unbelievably passionate about his craft and is constantly pushing the boundaries of innovation and efficiency. In addition, Tim is a very organized contractor who is always clear and open with his clients regarding proposals, bidding, budgets and changes. Solarwise is the only straw bale builder I know who delivers their projects on time and on budget most every time. Ryan Chivers - Artesano Traditional Plasters
I recently worked with Solarwise Natural Building & Design as our straw bale contractor on a
private school located in Avon, Colorado. The project was a technically demanding natural
science education facility, which is seeking LEED Platinum certification. Tim Scursso served in a design assist capacity and as a subcontractor for all work associated with the straw components of the commercial facility.

Tim's expertise proved invaluable to the success of a highly visible and integral component of the
facility. He was never at a loss for proficiency in his trade or general building knowledge. The
transition to commercial construction was seamless for Tim and he ensured that our demanding schedule and coordination needs were met on all counts. The straw bale erection and plaster process were done under demanding mountain winter conditions and Tim provided valuable advice and assistance in planning for the challenge.

The level of communication from Tim exceeded all expectations and he was as much adviser and teacher as subcontractor on this project. Having a subcontractor ensure that all of the complex detailing that goes in to such a facility are thought out and executed is an invaluable asset to me as a contractor. Tim's crews were always professional and extended the effort required to keep the project moving.

The quality of Solarwise's work was an obvious result of not only their planning, and communication, but of skill and craftsmanship. Tim truly brought an artist's attention to the
detailing and execution of their work. It is a pleasure to work with the true craftsman that Tim and his crew are.

I would highly recommend Solarwise and Timbo Scursso as a consultant or contractor on any
construction project. I have up most confidence in his, knowledge, skill and ability to bring
success to many components of a job. The entire team was glad to have them as partners in this exciting project. Thanks Tim! Kevin Cooper - R.A. Nelson & Associates
Moving to Colorado in 2007, our intent was to build our own house. Thank goodness we didn't! Instead, we were fortunate enough to find Timbo Scursso with Solarwise Natural Building and Design.

What can I say about Timbo? First and foremost, he's GOOD! Other words come to mind – honest, sincere, dependable, patient, trustworthy, understanding, creative, flexible, adaptable…

Timbo took our bare patch of land and on it built an incredible house. We wanted to utilize old wood and doors salvaged from my husband's grandfather's 1836 Mississippi house. Timbo made it work. We wanted the house to be comfortable and cozy, economical and "green". Timbo made it work. We wanted to be a part of the building process – to help with construction as much as possible. Timbo put up with us, was patient with us, and taught us. Never once – even with our wildest ideas – did he tell us "No, it can't be done".

Timbo and his crew built our house during the worst winter in 20 years (so the old timers said). Many a morning, before the roof was on, we shoveled snow out of the living room and had to set up heaters to defrost the power equipment and melt the ice that formed on the upper level. Like the proverbial mail carrier, neither rain, nor sleet, nor snow, nor wind, nor dead of night kept the crew from working. It was amazing.

The crew that worked on the house mostly consisted of just one or two other men at a time. Paul, Derek, Stefan, John, Mike and Jay were all fine young men and hard workers. They were courteous, polite, well-mannered, considerate and fun to be around.

The crew kept our work site clean and safe throughout the building process. The guys came to work and worked the entire day – often staying the night so that they could get an early start the next morning. Their behavior, as well as their craftsmanship, was always completely professional.

I've always been told that building a house is one of the hardest and most frustrating things you can do and once you built one, you'd never do it again. I can honestly say that working on this house was an unbelievable experience – and one I would gladly do again – but only if Timbo and his crew were working with me.

What can we say to somebody who helped us fulfill our dream?

Simply, thank you.
Lindy McDaniel & Gene Keller - Saguache, Colorado
Get in Touch with Us
Please fill out the forms below to submit your questions and comments.

Your information has been submitted!
* Required field
Please use a valid email.