Login to the Company Portal
Enter your email and password below to login and view any project shared with you
Close
Invalid email or password
Login
Forgot Your Password?
About Southern Structures, Inc.
We have 20 years of experience Building Custom Homes using Insulating Concrete Forms, ICFs. We are "Pioneers and Industry Leaders" of using Vertical and Horizontal Concrete in Residential and Commercial Construction.

We Design, Build, Manage, Contract, Sub-Contract, and Distribute for all types of Construction Projects.

We can demonstrate and implement Proven, Affordable, Innovative, and Guaranteed methods to make your project the Strongest, Quietest, Safest, and Most Energy Efficient structure possible.
Recent Projects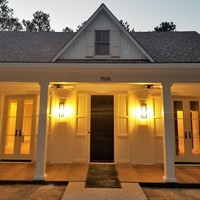 ICF Construction
What Clients Are Saying About Southern Structures, Inc.
''When I had a home inpection done 4 yrs ago when I purchased the home, the inspector said my house was a poured concrete home. He praised ''who ever built the house'' for doing an amazing job. '' Susan Nevers
Ben did an excellent job building an Insulated Concrete Form (ICF) home that I designed. He was a real pleasure to work with and the quality of his construction was outstanding. I would definitely recommend Ben if you are considering building a new home or addition. Owner, Henry N. Shepard II, PE
We have just started a very significant project with Ben and we have been very please with his attention to detail and workmanship. Russ and I highly recommend Ben Daniel's services. Maria Cooper, Vice President at Russ Cooper Associates, Inc.
Southern Structures, Inc. Professional Organizations

Get in Touch with Us
Please fill out the forms below to submit your questions and comments.

Your information has been submitted!
* Required field
Please use a valid email.