Login to the Company Portal
Enter your email and password below to login and view any project shared with you
Close
Invalid email or password
Login
Forgot Your Password?
About
Bickley Design Build has been serving the Middle Georgia area for 2 years. We are long-standing members of the BBB with an A+ rating, and are proud to be the recipient of the Best in Business Award for the last 4 consecutive years. We carry the highest certifications for residential remodeling and building in the region, such as Master Builder, Certified Graduate Remodeler, and Certified Aging in Place Specialist.
Recent Projects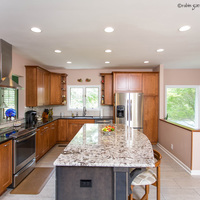 Kitchen 7.14
What Clients Are Saying About Bickley Design Build Services, Inc
We originally contacted Bickley Design Build for an energy audit of our house, performed by Mr. Bickley himself. He walked us through every inch of our house, listening to our concerns and pointing out many ways that we could improve our energy efficiency. We hired his team to oversee the needed renovations and were very pleased by the work of his crew and the subcontractors. We used this as a ''trial run'' for the company before we jumped in with any major renovation projects and we liked what we saw.
The master bath, master closet and home office in our house were designed and decorated by the original builder and were not very functional for our lifestyle needs. We hired Bickley for this project because we wanted a design company as well as a general contractor to take our project from concept to reality. We discussed materials and costs up front and then signed a detailed contract stating the scope of work, timeline and payment schedule.The construction crew was very professional and respectful of our personal space throughout the project. We received weekly updates, timelines and budget details. The project was completed when promised and came in on budget. Mr. Bickley himself was personally involved and knowledgeable about our project. The subcontractors showed up on time and all did fantastic work. We couldn't have been more pleased by the final outcome. We now have 3 beautiful and functional spaces that we use every day.


Greg Simmons
Thank you SO MUCH for the quick and well done resolution to our handicap rail issue. It looks great and more importantly now it feels and IS safe. We really appreciate that y'all went to the time and trouble to make sure it was fixed the right way. Thank you.

You guys continue to amaze us with your exemplary service and attention to detail! This is one of the main reasons that we decided to work with Bickley Design Build in the first place - you came highly recommended to us by someone who had already worked with you and was very happy with your fine work to start with AND the excellent service they received AFTER the initial work was completed. This is also why we continue to tell our friends to give you a call when they have home projects to do. You give fabulous attention to detail before the project starts, while the work is going on, and the best part (next to the job well done to start with) is you don't leave your clients after the last nail goes in and the dust is cleared away. When the dust clears...you're still there! If a problem comes up it seems like someone is at the door to take care of it almost before the phone hangs up (or in today's world - as soon as you hit the ''send'' button!)

We are, and will continue to be, some of your best advertisers. We are happy to to tell folks about Bickley Design Build. We know we can recommend you with confidence. And you are welcome - you deserve all the credit for a job well done that just keeps on being well done. Your type of customer service seems rare today and speaks volumes for you as a business as well as for you personally.
Peggy and Larry Chastain
Thank you so much for taking time to follow-up and get the items on our punch list. I have completed many construction projects in the past 30 years - lots of subs and more than our share of problems - Thank you for the fabulous experience on our kitchen! The Dyers
Bickley Design Build Services, Inc Professional Organizations


Get in Touch with Us
Please fill out the forms below to submit your questions and comments.

Your information has been submitted!
* Required field
Please use a valid email.