Login to the Company Portal
Enter your email and password below to login and view any project shared with you
Close
Invalid email or password
Login
Forgot Your Password?
About Effect Home Builders Ltd.
Building refined, energy efficient homes, Effect Home Builders creates sustainable homes that reflect you and your lifestyle.

Implementing practical green solutions, including Net Zero Energy Homes, Effect combines elegance with sustainability in your custom built home.
Recent Projects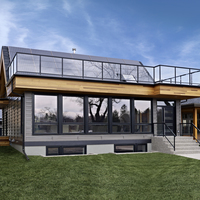 Belgravia Green Net Zero Energy Home
What Clients Are Saying About Effect Home Builders
We love our house. It's everything we were promised – warm, energy efficient and attractive. The experience of building with Effect was phenomenal. From the beginning we were given clear instructions about what decisions the builders needed and when. Consequently work proceeded on time and we moved in to our new house 10 months after our old house was knocked down.
Effect understands the nature of building in mature neighbourhoods. They preserved as many trees as they could and even worked around our existing garage. The worksite was clean and respectful and considerate of our neighbours.
The finished product is more beautiful than we had imagined. These are builders with integrity. They take pride in their work and demand that same level of craftsmanship from all the sub-trades. We have never had trouble reaching them - they always returned our calls and answered our questions in a timely manner. Our home was finished on time and on budget – no surprises.
We don't plan on building again because we feel we got it right the first time, but if we ever did, these are the only builders we'd use.
Bob and Jennifer Barnetson
Effect was very easy to work with, respectful and responsive. They always brought positive energy to their work. When there were issues, as there are in any building project, they took responsibility and found solutions. The quality of their work is top notch. Effect Homes kept the building site clean and safe, always conscious of the impact their work had on our neighbours. We'd hire them again, and without reservation, recommend them to others. Jeanette Boman and Kevin Taft
We are extremely happy with our Effect built home.

Since we moved in, we have thoroughly enjoyed living in our comfortable and energy efficient new home. We feel it was one of the best decisions we ever made when we chose your company to build it.

Every part of the creative process was done very professionally, with honesty, integrity, and credibility. During the construction we observed your unique model where you and your partners, Dave and Dale, employ the core workers full time, securing constant quality. There are other builders who hire construction crews for projects only, so there is a high level of fluctuation and inconsistent quality issues with these temporary crews.

Our project manager, Dave Brettelle, provided us with the best customer service and friendly advice. He was always available to us whenever we had any questions or concerns.

Krista Polukoshko provided us with excellent technical support.

So now, when we look back on the whole experience of building a new home with Effect Home Builders, we would like to say this:

Thank you very much for the outstanding workmanship, quality and service. We recommend Effect Home Builders to any one who is looking for a trustworthy builder capable of delivering a quality custom built home!
Kornel and Moira Kovats
When we first decided to build a new home, we ''shopped'' around to find a builder who could really understand what we were looking for. As soon as we met Les and Dale, we knew we'd found the perfect fit. Effect Homes truly realized that we were building our dream...a forever home...and not just a house.

The team at Effect kept us up to date of all progress via phone and email and were always willing to answer questions along the way.

Our home is extremely energy efficient, well built, and beautiful. Effect cares about its clients and its product...not something that can be said for others. Effect built us a HOME just as promised! Natasha Irvine
We found [the Effect team] very personable and willing to answer all of our questions regarding our house plans, finishing details and costs. In the initial meetings we really appreciated that you understood our plans and what we wanted. There were no hidden costs. Effect was very upfront in calculating the cost when we requested a change.
We were always kept in the loop and knew what was happening at each stage of the build and what we were responsible to do or to provide. There were no surprises. Someone was always available to answer our questions and our concerns were dealt with very quickly.
Considering all of the horror stories we have heard from friends and family about building a house we can say we did NOT have that experience. We enjoyed the build process with Effect and would do it again. We have a fantastic house! Kitty and Raymond
Get in Touch with Us
Please fill out the forms below to submit your questions and comments.

Your information has been submitted!
* Required field
Please use a valid email.