Login to the Company Portal
Enter your email and password below to login and view any project shared with you
Close
Invalid email or password
Login
Forgot Your Password?
About Houston Remodeling
Houston Remodeling is a Design Build Remodeling Contractor offering the finest in complete home remodeling, design and repair since 1996.

Whether you need a new kitchen or bathroom, an addition, a new roof or architectural designs, we are here for all your needs and to make life around your home more enjoyable.

We are a Better Business Bureau Accredited Business with an A+ Rating.

Recent Projects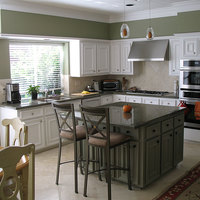 Project Images
What Clients Are Saying About Tim Lassiter
We recently chose Houston Remodeling to update/remodel our Master Bathroom for three main reasons: Size of company, Attention to detail and Personality. Our home is 30+ plus years old so it was important for us to find the right blend of old and new ideas to achieve the look that we wanted. Tim Lassiter provided and delivered several key factors which proved to be more important than we imagined.

First, he took our ideas and ''visualized'' the finished look to help us make sure the colors, concept and construction fit the final picture. Second, Tim is an ''on the job'' manager who works on the project to it's completion. It's the little details that really distinguish a project. That kind of craftsmanship make both the homeowner and contractor proud. Finally, with Tim Lassiter, you definitely know that your dream is ''his dream'' and not just another job.

Houston Remodeling provided us with the quality, service and honest integrity that made our dreams come true. Come by and see it! Stacha & John Erb
To those considering home repair and remodeling, I heartily endorse Houston Remodeling.

Tim Lassiter's work is first-rate, on-time, on-budget, very professional, and he handled an insurance repair claim for me most proficiently.

Houston Remodeling is a good bet to get your job done right the first time. Paul Teten
An old home demands an expertise that Mr. Lassiter certainly has. The installation on the new heating and air conditioning system required extensive repair, all of which enhanced my home rather than detracted from the interior. In addition, he rebuilt a dilapidated garage into an attractive apartment, redesigned my patio, and many general repairs were made. All to my satisfaction.

Tim, has an outstanding ability to visualize the end results and thus is able to direct the selection of color, texture and trim. His many years of experience are a great help to his customer, because it is gratifying to deal with someone who knows what he is doing, what can be accomplished and is able to carry it out.

Sincerely, Bernadine Miller