Login to the Company Portal
Enter your email and password below to login and view any project shared with you
Close
Invalid email or password
Login
Forgot Your Password?
The Power of Innovation
Combining three award-winning construction software platforms - ConstructionSuite™, ConstructionOnline™, and OnSite™ Mobile Applications - ConstructionSuite 5 is the latest edition to the UDA construction software family. This dynamic combination provides the power and stability of enterprise desktop software with the flexibility of a web-based program. Redesigned with a focus on streamlining operations and improved performance, ConstructionSuite 5 is the next generation in advanced project management. The future is here.
Recent Projects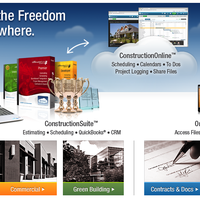 New Home
What Clients Are Saying About Kevin Cree
From Small Time to Prime Time
ConstructionSuite User Featured on HGTV's Television Show ''Curb Appeal''
HGTVProving that hard work and superior service pay off, Michael Sauri, Owner and President of TriVista USA is living proof of the Samuel Goldwyn quote, ''the harder I work, the luckier I get.'' TriVista USA's reputation and expertise has earned them national attention from the likes of HGTV, Bob Vila, Remodeling TV, among others - See what works for him. Michael Sauri - Tri Vista USA, Arlington, Virginia
Greg Hardwick P.E., President and owner of Hardwick General Contracting in Maitland, FL, has been a longtime supporter of Green Building and the ConstructionSuite system. A feature educator at the Southeastern Building Show in Orlando, FL, Greg Hardwick will not only share his wealth of knowledge on Green Building, but he'll also be featuring the program that helps him manage his business so effectively, ConstructionSuite. Greg Hardwick - Hardwick General Contracting, Maitland, Florida
Challenge Design Innovations is a national leader in the challenge course industry, where they design, build, service, and provide training for Military Tactical Training Facilities, Education Team & Confidence Building Courses, and Recreational Adventure Courses and Canopy Tours. Allison Wilson - Challenge Design Innovations, Pineola, North Carolina
Kevin Cree Professional Organizations