Login to the Company Portal
Enter your email and password below to login and view any project shared with you
Close
Invalid email or password
Login
Forgot Your Password?
Welcome to K E General Contractor
We are a family owned and operated full service construction company with over 15 years of experience and many satisfied customers. Hiring a proper general contractor for your new project is a critical step. Sometimes it is not about the money or the promises, but it is about trust. You want to entrust your project to someone with the experience to deliver and deliver on time. We are dedicated to satisfied our clients needs ..
Recent Projects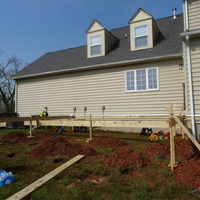 Decks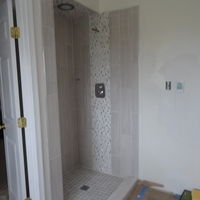 Bathrooms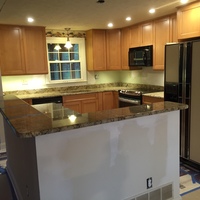 Kitchens
What Clients Are Saying About K E Home Remodel LLC

Loretta Curry:Home Repairs
August 30, 2015
I have contracted with K E Home Remodel, LLC for approximately four (4) four years now. I have always been very satisfied with the services received. The company representatives have always provided estimates for the work and stayed within those estimates unless I requested additional services. Additionally, the representatives ensured that I was aware of any changes or modifications to the schedules work, additional supplies needed (before purchasing) and the cost and any changes in the scheduled completion dates. Unlike with some other contractors, I have never had to request they come to redo work that had been completed. I highly recommend this company because of their efficiency, on time schedules, trustworthiness and work that is completed to my satisfaction. Lorretta Curry
Ajay Kasana:Munish Sayal
December 1, 2015
Work done to full satisfaction and house sold in 2 days.
Ajay Kasana
Sam Chim:Sam Chim
November 6, 2015
KE Home Remodeling is honest, reliable and punctual. Sam Chim
Rockville, Maryland - TilingDecks & Porches - Painting - Interior - Remodeling - Basements - Remodeling - Kitchen & Bathroom - Hire again: Yes - Job Completed: March 02, 2013 - Job Completed: Yes - Cost : $6,000.00

K E Home Remodel has done couple of jobs for me. They have remodeled two full bathroom. redid the whole deck, remodeled the basement with adding walls, and extra doors and painting. He has changed couple of locks for me as well.

He is very punctual, the date and time he is suppose to start and finish the job, he is never behind the schedule. The quality of work is excellent, he is very honest and trustworthy. He cares and takes pride for his work. I don't even get second estimate. I know his price is fare for the quality of job he delivers. If you try him once, you don't get any other contractor do your remodeling project.

Share with neighbors : Yes Soheila Biria

(Wednesday, July 03 13 09:15 pm EDT)
Hire Again: Yes - Approximate Cost: $0.01
Categories: Ceramic Tile - Decks & Porches - Painting - Exterior - Painting - Interior - Remodeling - General - Remodeling - Kitchen & Bathroom on Band of Neighbors: Yes

Description Of Work: KE Home Remodel recently power washed and painted my desk. He replaced several pieces of wood that were either rotted or warped. The deck looks brand new! In the past, he has completed two bathroom renovations, one bathroom refresh, and painted several rooms. Member Comments: Painting the deck: Contractor showed up on time with all materials and worked the amount of time as indicated on the clear estimate that was provided to me several weeks before.

Renovating the two bathrooms: Contractor did a complete overhaul of the space, gutting the entire bathroom. He replaced several rotted floor boards and did electrical work. The tile work was done flawlessly and he assisted with the selection of the wall / floor tile combination with grout color. All of the work delivered was completed as promised, and in a timely manner. There was a faucet leak in one of the bathtubs, which was rectified immediately, once the contractor was notified.

For all work, we are provided with a clear estimate with all prices. I did not list the prices for the renovations above, but the prices were competitve to other contractors. This contractor came recommended from a friend that had their basement completed. Falisha Alie
(Tuesday, May 28 13 02:28 pm EDT)

Jose is an excellent contractor that provides you with a fair price and completion of the work in a timely and professional fashion. I have used him on several occasions, and definitely plan to use him again in the future. Falisha Alie
(Friday, March 29 13 05:18 pm EDT)

Thanks to Jose and his team - they are true professionals. Beautiful work, affordable, always on time, neat, friendly...I would use the services of KE Home Remodel again in a flash! Nancy Still
Get in Touch with Us
Please fill out the forms below to submit your questions and comments.

Your information has been submitted!
* Required field
Please use a valid email.