Login to the Company Portal
Enter your email and password below to login and view any project shared with you
Close
Invalid email or password
Login
Forgot Your Password?
About
SweisKloss is a full service boutique design + construct firm based in Santa Monica, California. The SweisKloss team specializes in residential and commercial design, interior design, and construction. We are a hard-working team that enjoys creating functionality and aesthetically pleasing spaces for our clients.
Recent Projects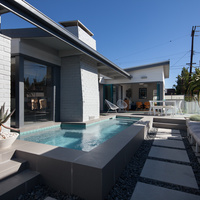 Our Work
What Clients Are Saying About SweisKloss
''They are very professional, honest and their attention to detail can be clearly seen in every aspect of their work. Every person that has walked through my home has always commented on their work and many have asked me for their contact information. '' Issam
''We have worked with Abeer on the design of two of our homes, one in Santa Barbara and one in Los Angeles. In both cases we were impressed with her ability to listen to our wishes and respond with creative and beautiful options that met and exceeded all of our requirements.'' Tom Greer
I'm a mortgage broker in Los Angeles. During the past several years I've referred [them] to many clients. Some used [them] for remodeling and additions, others needed complete design and construction from ground up. In every case, my clients reported nothing but happy and glowing experiences. They consistently reported that [they were] professional, knowledgeable, flexible and timely, excellent communicators at all phases, with a warm personal presence to boot. In addition to doing actual plans and construction, Abeer Sweis, the owner, has helped many of my clients who were considering buying a particular property. She's visited properties with them to review what work and costs they could anticipate. She was graciously available on short notice, including weekends. Recently, she found a plot of land for my client who she knew was looking. Truly, she goes beyond the normal call of duty. Bill Rayman
I purchased a home in Los Angeles without knowing who or how to renovate my rather complicated project.
I interviewed several design build firms and I found [them] to be the most competent and assured in their presentation versus the competition.
They have continued to impress me with their abaility to listen to my desires, while also preventing me from making some silly choices for myself in the design.
I feel that I could not have made a better choice. Robert Balzebre
Abeer, Jeff and their team did an amazing job expanding and renovating our mid-century modern architectural home. The design process was a true partnership--Abeer listened to our needs and incorporated our preferences, while executing an incredible design vision for our home. We enjoyed the process very much. Jeff did an exceptional job leading the construction process. Every detail was addressed and the end product is truly amazing. Every aspect of our new home meets our needs, both in terms of form and function. We highly recommend [them] and would hire them again without reservation. David and Elaine Vukadinovich
SweisKloss Professional Organizations



Get in Touch with Us
Please fill out the forms below to submit your questions and comments.

Your information has been submitted!
* Required field
Please use a valid email.